Carpet Drying – Fresh Water
It can be one of the most stressful problems you encounter as a homeowner. A burst pipe, backed-up drain or freshwater flood occurs, leaving your carpets soaked. How can you keep them from being ruined?
From the time of the flood, you have a ticking clock before the damage gets worse. Mold can start growing as quickly as 24- to 48-hours after the flood. And, even clean water can become hazardous the longer it sits. Water can come in contact with dirt in the carpet or soil from the ground outside and become contaminated with dangerous bacteria that can make your family sick.
Our professionals understand how important it is to remove water quickly and thoroughly. We have a process in place to begin flooded carpet drying right away:
---
---
Our Carpet Drying Process
Our multi-step process assures that all water and contaminants are removed from your carpet to prevent dangerous contamination. We work quickly and efficiently to return your carpet and home to its preflood state:
Step 1: Locate wet areas.
Water in carpets may not always be apparent to the eye or to the touch. We use moisture-detecting equipment to figure out where your carpets are wet and where treatment is required. 
---
Step 2:
Extract water from carpet and pad.
If water is just removed from the carpet, the pad may stay wet and cause unseen damage later on. Our process assures that the carpet and the pad beneath the carpet are thoroughly dried to prevent mold and water damage.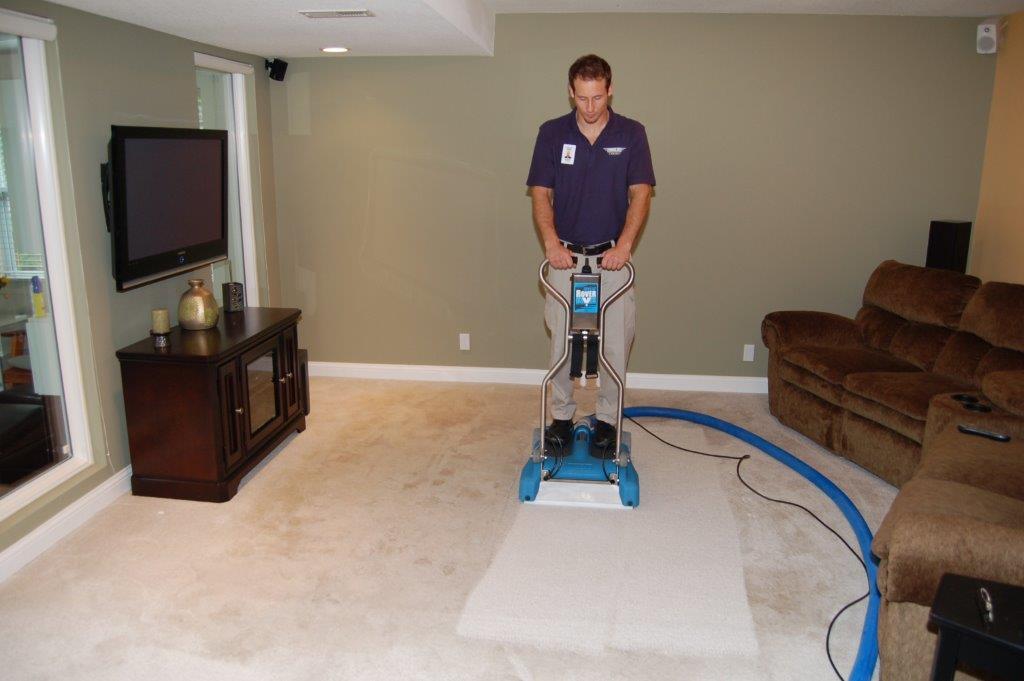 ---
Step 3:
Apply disinfectant if necessary.
Mold and bacteria can develop quickly in wet carpets. Our process kills any spores and organisms so that you can enjoy a clean carpet—problem-free.
---
Step 4:
Dry carpet, structure and pad.
We use high-powered drying fans and other equipment to ensure that all moisture is removed from the carpet, the pad and the structure below. This allows us to ensure that there is no lingering water to cause damage to your home.
---
Step 5:
Restretch carpet if necessary.
Flooding and subsequent carpet treatments can cause carpets to buckle or wrinkle. Our skilled providers use knee-kickers and power stretchers to restore your carpet to its smooth, fresh state.
---
Step 6:
Clean carpet.
Your carpet will be thoroughly cleaned to remove any residual dirt, spores or cleaning products.
If you have an issue with flooded carpet in your Kansas City home, there is not a moment to lose. Contact us immediately so we can remove the water and save your home from costly damage.